CSA NEWS
The Farmer's Page
      June 21, 2018, We will be adding Apples to the shares of Our CSA this Fall!
     June 21, 2018 The First Share of this season will be available on Thursday, July 5 at your pick up location. Please email or call us to confirm your chosen location for pick up. The extended cold this spring has set the crops back a little this season but we will soon be under way and expect a great season ahead. Please have a Happy and Safe Fourth of July Holiday.
    June 14, we would like to thank all of our CSA members for their commitment this season. Our target date for delivery of the first share of the season is Thursday, June 28th. It begins with lettuce, greens, radish, and green onions. If you have not received an email from us, please contact us so we can be sure we have the correct email for the season, as this is our most used method of information about the weekly shares and what is going on at the farm. We attempt to email on Tuesday's with a list of what should be available in the weeks share but it may change when we get in the field and harvest for the week on Wednesday evening and Thursday morning. The cold spring and lately very dry conditions have created a challenge, but we are looking forward to a very productive crop. As always we farm by the Grace of God and at the Mercy of Mother Nature. Thanks again and we will see you soon.
"The Farmer"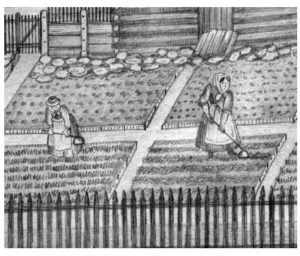 June 15, An update on our heirloom
Isadore Project - 
Heirloom or open pollinated fruit brings our history into the present with flavors and beauty from the past.
Unlike hybrid plants, gardeners can save seeds from heirloom varieties with the assurance that the fruit from each new generation of plants will bear fruit that is similar to the fruit from the past seasons.
Our plants this year include. Russian Red Kale: "Ragged Jack" or "Rugged Jack Kale". Mildly acidic, but bold flavor,this ancient variety is very hardy. Delicate, oak-leafed appearance, this variety is not only tasty, but also a wonderful visual addition to your garden. Lemon Cucumber: Lemon-shaped fruits have pale yellow skin and crisp white flesh. Listed in Wilson's 1894 seed catalog in Bucks County. Very productive and drought tolerant. Gherkin Cucumber: Tiny pickling cucumber with a light green spiny skin; an ingredient in PA Dutch Chow-Chow relish. Salsify Oyster Plant: hardy, long-season perennial plant, blooming with a purple flower and producing a creamy white root, said to have a delicate oyster flavor. Requires a long growing season; so look for this in October.  Moon and Stars Watermelon: Considered an old Amish heirloom variety, the melon has large yellow moons and small yellow stars on its smooth, dark green rind. The foliage is also speckled yellow. Large seeds are tan flecked with brown. The flesh of this watermelon is pink-red and is wonderfully sweet. Early Jersey Wakefield Cabbage: (pre 1840's) A pointed-headed cabbage, has an excellent mild flavor. .
Look for these in your share later in the season.